Description
Camcontacts is our top rated adult chat webcame community. The sheer volume of options, from free to paid, combined with excellent video quality and customer service makes it our top choice. An unusual option is strip hilo which lets you play vs the chat host and if you win, the clothes come off. There is even a dedicated site StripHilo. It provides the same content as Camcontacts, just filtered down to just the hilo category. Wether you register there or at Camcontacts gives you access to both pages as well as a few other mirror sites.
Sign up requires a credit card for age verification. We signed up, tried it and were able to cancel without any issues.
In our reviews, the ability to show that a site is safe is huge. In this area, StripHilo. It provides the same content as Camcontacts really shines. They have been around for a very long time and in order to do that, they need to have good customer service which is what we found to be the case.
As you browse the site, either by checking to see who's online, or using the search function you will find different chat options. There are galleries to view for free and basic profile for all the chat hosts. Each chat host sets their own price and most offer either a group chat by the minute option or a one on one private option. We saw prices from $.90 to $4.00 and up per minute.
Ultimately what stands out with Camcontacts are the vast numbers of chat hosts, and the organization of them into categories that allow you to find what your looking for. There is a good search function, this works great so you can reduce the view down to only what you want to see.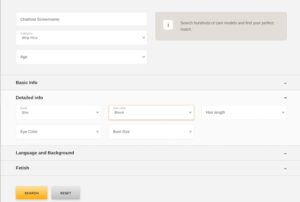 Girls

The selection of girls is outstanding. Another big plus. You have lot's of useful categories, and good search functions and filters combined with a vast array of girls to choose from.
Pros & Cons
Pros
There are typically 100s of chat hosts online at any time.
The organization of the site from just making friends, to girls home along (a little shy) all the way up to instant action, boy+girl and more. Strip hilo a unique option.
Customer service, we tested by setting up membership, test drove it through some actual live performances and then checked to see how responsible customer service was to cancelling the membership. It was completed with no questions asked within 24 hours.
Cons
A short preview session, just to see what is going would be a plus.
Also it would be useful when looking at the group chat options to show how many people are already in a group chat with the host.